Fancyland™ 3 in 1 Stainless Steel Butter Knife
Detail Product
✨YOUR MORNING TOAST'S BEST FRIEND✨
Ready to say goodbye to hard clumps of butter ripping apart your morning toast? Let our 3 in 1 Stainless Steel Butter Knife quickly turn cold, hard butter into sumptuous easy to spread ribbons of dairy goodness.
This knife makes dealing with the firm, refrigerated butter, and hard-to-spread jam an easy task.
🍽Enjoy the butter melt in your mouth🍽
3 in 1 Stainless Steel Butter Knife comes with a unique design that features a built-in grater to aerate and soften butter making it easy to spread. It also works for avocado, butter, cream cheese, and more!
3 in 1 Stainless Steel Butter Knife has a wider blade that helps to collect the grated butter as well as provide more surface area for easy spreading. It is made from stainless steel making it dishwasher safe and long-lasting.
FEATURES
3 in 1 Design - Our 3 in Stainless Steel Butter Knife gives you

three functions working with.

I

t can be used as a bread cutter, butter curler and spreader, and butter scooper. Small slotted holes running down the blade's edge makes shredding cold butter easy.

304 Stainless Steel - The 3 in 1 Stainless Steel Butter Knife is made of food-grade stainless steel with long-lasting, durable, and highly corrosion-resistant features. This ensures it's long service life and your safety while using it.
Safe to Use Design - It comes with an ergonomic design and smooth finish to ensure your safety, and keep you from injuring yourself. This butter spread knife is even safe for children to fill their toast with butter/jams and even chocolate curls.
Widely Used - 3 in 1 Stainless Steel Butter Knife is perfect for homes, cafes, and restaurants. This butter knife can cut bread, butter, cheese, fruits, vegetables, cake & food streams, curls, slices butter all-in-one kitchen knife.
SPECIFICATIONS
Material: 430 food grade stainless steel
Size: 20.5 * 2.5cm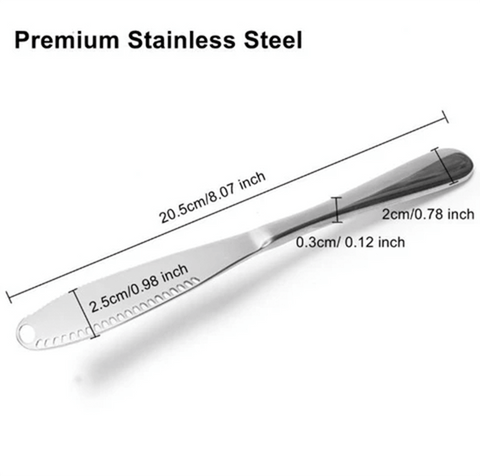 PACKAGE INCLUDES
1 x 3 in 1 Stainless Steel Butter Knife