Fancyland™ Adjustable Soft Kids Bathing Shower Hat (3PCS)
$11.99
$22.99
Save $11.00
Detail Product
Baby shower is happy!
This innovatively designed shower hat can prevent soap and water from entering kids' eyes, while washing their hair.  They don't need to close their eyes while washing hair. You can enjoy your kid's bathing time and have a fun experience with your kids.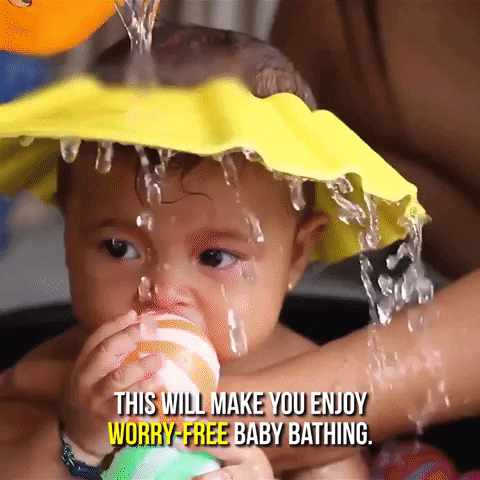 Features:
ADJUSTABLE
The hat has a flexible design with 4 adjustable fasteners....so you can easily adjust the hat to fit your baby's head.
PREVENT EAR INFECTION & EYE DISEASES
Water entering the ear can cause an ear infection. Foam flowing into the eye will increase the risk of eye diseases. Wearing our shower cap your baby's eyes and ears will be protected completely because it keeps the water & foam out of his/her eyes and ears.
COMFORTABLE TO WEAR
Our shower hat is made of high-quality EVA foam material that is soft, flexible and lightweight... It stretches a bit to help the cap stay on securely... And It's comfortable for your baby to wear during shampoo time
ERGONOMIC FLEXIBLE DESIGN
Our Bathing hat is a world-class product for your baby which adjustable to varying needs from the age of 0 to 6 years old. So regardless of the size and temperament of your baby, you can conveniently use its adaptability to your benefit.
QUICK TO CLEAN AND NON-SLIP
Our Bathing hat is a revolutionary bath essential for your lovely ones that helps them enjoy bathing without worrying to slip.
Advantages:
SAVE YOU BABY'S EARS: When water enters the baby's ears, it can cause infection and inflammation. No more water runs into your baby's ears using our shower cap.
SAVE YOUR BABY'S EYES: Foam enters the eye will increase the risk of eye diseases. This amazing cap would prevent completely water & foam from flowing into your child's eyes.
EASY SHAMPOOING: Sewage flows into the mouth and nose, your baby will cry and resist bathing. Our amazing cap make washing baby's hair much easier and tears-free.
Specifications:
Style: With ear protection/Without ear protection 
Color: Pink,Blue,Yellow

Applicable age: 6 months-4 years old baby

Specifications: 40CM-55CM head circumference
Package Includes:
Baby Bathing Shampoo Shower Protection Hat (3pcs)