Fancyland™ Heart Vision Glasses
£12.99
£25.99
Save £13.00
Detail Product
Limited time 50% OFF
WORLDWIDE FREE SHIPPING OVER £20
Ship Within 12 Hours After Payment
Delivery time 7-15 days
Payments via PayPal® and CreditCard.
Return>> 100% money back guarantee.
 The  Best Selling Heart Effect Diffraction Glasses.
Featuring our true flex PVC frame with nearly Indestructible lenses. Bring them with you to your next Rave, Festival, Light Show, firework Show.Fall In love with your city and explore it all over again with The Absolute Best Heart Effect Diffraction Glasses!
The HEART VISION Glasses turn any point of light into a Heart!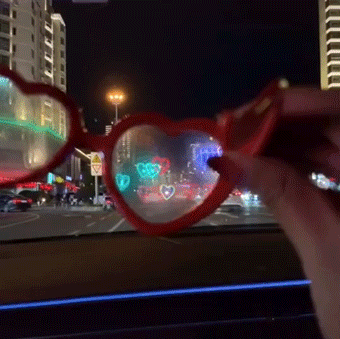 FEATURES
PATENTED LENS TECHNOLOGY used in our glasses produces remarkable clarity and clear shapes. We have upgraded our original heart diffraction glasses to include a sturdier frame and lenses that are reinforced and guaranteed NOT to pop out! When you are standing in front of the main stage or your next major EDM festival, these glasses will make The lights explode into colored and rainbow hearts!
HIGHEST QUALITY AVAILABLE - Heart Vision Diffraction Glasses are Water Resistant, feature stainless steel hinges and that makes these diffraction glasses, like all Apolloptic diffraction glasses, The Highest-Quality Available On The Market.
How Do These Glasses Work ?


Apolloptic glasses work on this ancient principle of physics. First, we produce a high-quality, holographic lens that contains thousands of tiny lines. The surface of these lenses serves as our "grating" upon which the light will diffract.

When you wear the glasses and direct them towards a light source––this could be the light show of a concert or the lamps in your living room––the beam of light strikes the holographic surface of the lens (our "grating") and breaks up into its spectrum. What you see on the other side (behind the lens) is the dazzling array of sparkling colors, shapes, lines, and dots. As you move your head, the light dances across the surfaces of the lens for a truly spectacular experience!

You can experiment with different colored lights while wearing your Apolloptic diffraction glasses. A common white light source breaks up into a standard rainbow spectrum of colors (red, orange, yellow, green, blue, indigo, and violet). However, if you look at a red light source, you will see the red components of the light spectrum!
As seen on

 

TikTok

 :
PACKAGE INCLUDES