Fancyland™ Helping Third Hand Tool
£17.99
£35.99
Save £18.00
Detail Product
The Ultimate Helper! 


Need a hand for your DIY project? Helping Third Hand Tool is the perfect solution. This compact helping hands model is perfect for soldering jobs that require precision and a steady hand. The cast iron platform serves as a firm, secure base. So you don't have to struggle again to find someone who wants to help you!
FEATURES
ALLIGATOR CLAMPS. Helping Third Hand Tool provides a third extra hand that lets you clip on & work on anything from soldering to macro detailed delicate arts/crafts while leaving your hands free to improve precision.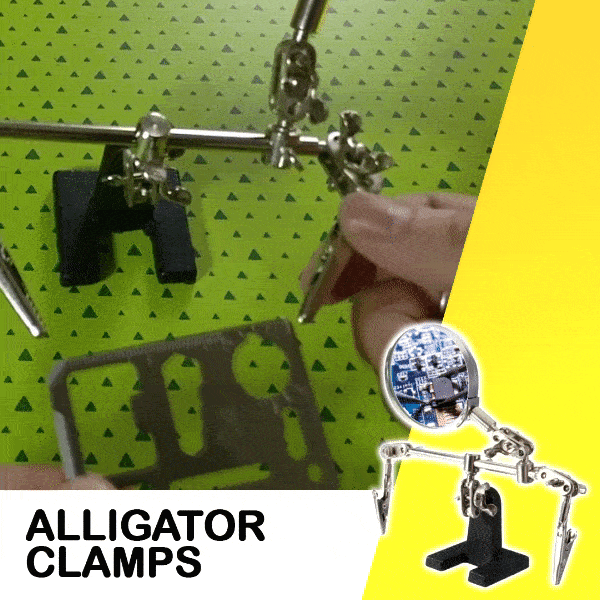 HIGH-QUALITY METAL.

 

The tool is made of h

igh-quality impact-resistant which can be durable and this will surely last. It has a 4x 12 diopter magnifying glass,  super-strong metal alligator clamps bend to all degrees, and a heavy-duty cast iron base which means that it will help you stabilize the object you're working on. 
MAGNIFYING GLASS. This Helping Third Hand Tool lets you do precise detailed work on small parts while adjusting the lens to see those tiny bits for your project.
VARIOUS USES. This tool is ideal for hand lens close work which includes soldering, craftsmanship engraving, electric circuit board repairs, painting miniatures, needlepoint work, diamond or jewelry cleaning, etc. 


SPECIFICATIONS
Material: Metal 

Size: 5 cm * 6 cm * 6 cm

Color: Silver
PACKAGE INCLUDES
1 x Helping Third Hand Tool