Fancyland™ L1R1 Mobile Gamepad with powerbank
£26.99
£52.99
Save £26.00
Detail Product
Play with 4 fingers: you can FIRE while MOVING! Improve your game experience! Bring your gaming to the next level! Be a Pro! For Android & iOS phones.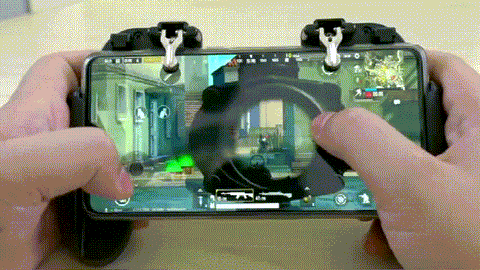 Features
Normal version : 
Super comfortable Gamepad
L1R1 triggers
2000 mAh Powerbank
Updated version Amazing 4-in-1 gamepad: 
Super comfortable Gamepad
L1R1 triggers
4000 mAh Powerbank
Play it safe: L1R1 Mobile Gamepad vs various Bluetooth controllers
Using this gamepad will NOT get you banned because it has physical connections and triggers. Some Bluetooth controllers are detected and considered "cheating" so players get banned. 
Built-in battery
Built-in rechargeable 2000mAh lithium battery, safe and efficient charging. No worry your mobile phone no enough electricity volume while playing.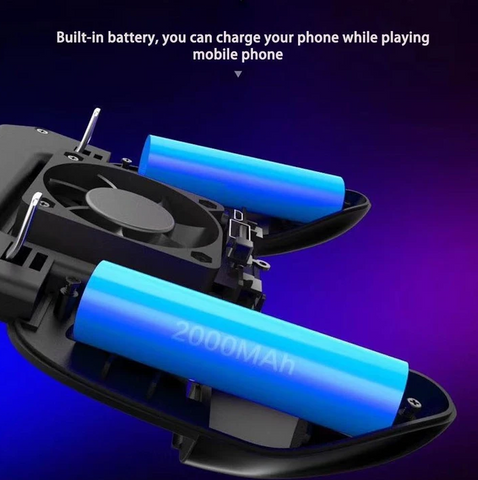 Use a USB cable to charge when the battery of the game controller is running low. It means normal charging status when the power indicator of the game controller is blinking; similarly, the indicators will be long bright once the battery has been charged completely, USB cable could be removed.
Built-in cooling fan
No longer to worry about your mobile phone overheating after a long time playing PUBG or Fortnite. It can reduce the phenomenon of device heating in the process of gaming to protect your cell phone.
Supported devices and games
Easy to use, suitable for all models of iPhone / Android phones. Suitable for a huge variety of shooting games, including PUBG Mobile, Fortnite, Rules of Survival, Survivor Royale, Critical Ops, etc
Adjustable size
Easy to use, suitable for all models of different sizes iPhone / Android.
Playing with 4 fingers
Moving when firing! Improve game experience, to help you be the pro on your game.
Specification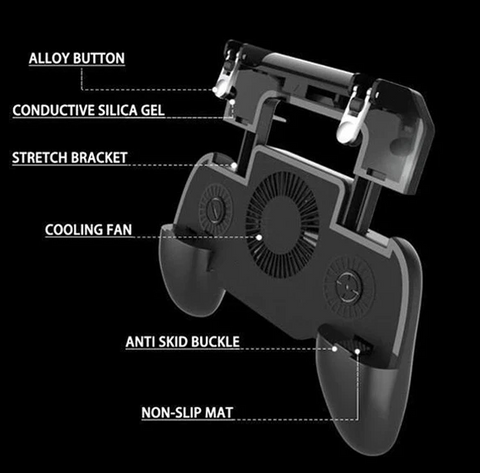 Package includes
1 x Mobile Gaming Controller/Trigger
1 x Charging Cable
1 x User Manual
1 x Packing Case