Fancyland™ Multi-Function Manual Garlic Presser - Upgraded
Detail Product
The Manual Garlic Presser is the perfect tool for mincing garlic, for incredible flavor in every dish you prepare!
Keep your hands clean and avoid odor since there is no contact with garlic leaving you with all the delicious benefits and none of the smelly side effects.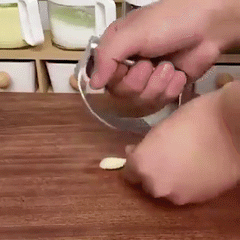 FEATURES
SIMPLE STRUCTURE, STURDY & DURABLE - This garlic press is made from 100% premium stainless steel. Hand-polished, no coating, 100% safe.
EASY CRUSH GARLIC - With a slight back and forth rocking motion, crush or mince garlic clove in easy way.Even for left-handed, small hands or weak wrists. Both hands mincing the large garlic also ok
EASY CLEANNING - Just rinsing the rocker under running water, then ok. Use the included brush to clean up faster.
EASY PEELING - Come with a tube garlic peeler to make mincing garlic easier and conveniently. Rolling garlic back and forth, have delicious and fresh garlic easily, save time and enjoy cooking.
A PERFECT GIFT - This is a perfect garlic pressing set, compact, convenient and durable. It's very suitable as a small gift for friends who love cooking in kitchen.
DESCRIPTIONS:
Material: Stainless Steel

Style: Normal, Upraded

Size: 10*5*7cm

Weight:100g/ 120g
PACKAGE INCLUDED:
1 pc Multi-Function Manual Garlic Presser (normal)
or 1 pc

Multi-Function Manual Garlic Presser

(upgraded)
or 1 set Multi-Function Manual Garlic Presser (1 x Garlic Press upgraded
1 x Garlic Peeler 1 x Cleaning Brush)