Fancyland™ Hatching Animal Egg Toy
$13.99
$27.98
Save $13.99
Detail Product
-Free shipping
Hatching Dino Egg Toy Dinosaur Dragon Hatch-Grow Eggs 
Satisfy your child's curiosity, make your child curious, imagine and wait.It's a great toy present for Kids Party Supplies, Birthday Party, School Classroom Rewards, Carnival Prizes, Easter Party, Goody Bagsï¼?/p>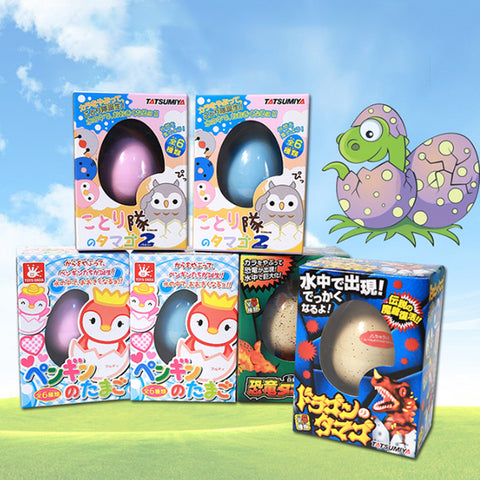 How to play:
Just put the egg in a Bowl of water (Water temperature no more than 30â"? no sunlight exposure) and watch it hatch out of its egg and grow; Takes 12-24 hours for the little cute to break through the shell. After 1-2 days it can grow even more.
Feature:
Novelty: Different animal eggs will grow out of shell. Very magic and funny for your kids. It will let your kids have strong curiosity to dinosaur world and will be delighted to learn the life process of eggs, meet children's curiosity,cultivating their patience, also feeling the joy of finding.
Best Gift: Great toy present for Kids Party Supplies, Birthday Party, School Classroom Rewards, Carnival Prizes, Easter Party, Goody Bags.
EVA materialï¼?/strong>Made of EVA material with good softness and elasticity.

Environmentally friendly materialsï¼?/span>

Has good surface gloss and chemical stability, anti-oxidation, anti-ozone, non-toxic is a very good environmental protection material.
Specifications:

Material: EVA&plastic, pass all of necessary detection.Very safe. 
Package Sizeï¼?/strong>10.6*7.5*5.5cm

Typeï¼?/strong>Tyrannosaurus,Cute,Owl,Dinosaur Kingdom,Shiba Inu three brothers
Package includes:
 1x Hatching Animal Egg
Noteï¼?/strong>
Recommended for children over 3 years

Each type has six random shapes and colors.